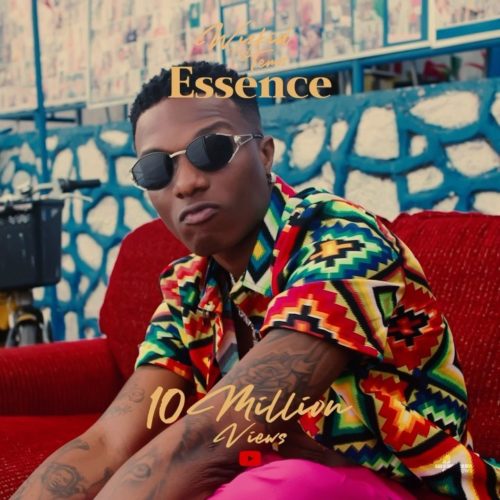 A lot of music videos were put out in the year 2021, but some caught our attention more than others.
Below are 21 most-watched Nigerian music videos in the year 2021. The list includes features from Davido, CKay, Tiwa Savage, Omah Lay, Wizkid, Burna Boy. Find out the rest of the artists in the article below.
1. "Love Nwantiti Remix" feat. Joeboy, Kuami Eugene – (180 Million YouTube Views)
Love Nwantiti is a song by CKay and was released in 2019. The song has a contagious feel which makes artists want to jump on it for a remix. This particular remix features Joeboy and Kuami Eugene and the video was premiered in 2021.
The video has almost 180 million views on Youtube, which is by far more than most of the other videos released at the same time as it. It was shot ad chopped by Naya.
2. "Love Nwantiti" Acoustic – (148,074,933 YouTube Views)
Super Talented Artist and Producer CKay puts a spin to his Smash Hit Love Anthem 'Love Nwantiti' with this soothing acoustic version.
As we already know that an Acoustic version of a song solely uses instruments that produce sound through acoustic means. CKay revealed, through this version that he is more than just an artist.
Love Nwantiti Acoustic version with the help of Tik-Tok is the second most watch Nigerian music video on YouTube in 2021.
3. "Essence" feat. Tems – (62,095,393 YouTube views)
From the stables of StarBoy Entertainment, Wizkid brought forth one of the most anticipated videos of 2021, premiered on the 9th of April, 2021. We must all agree that over 62 Million views on youtube in the space of 8 months, is no jokes and certainly not for the faint-hearted.
Essence is off Wizkid's 2020 album titled, Made In Lagos, The track features Alternate singer, TEMS.
4. "Love Nwantiti" (North African Remix) feat. ElGrandtoto – (43,589,371 YouTube Views)
With over 43 million-plus views on Youtube, Love Nwantiti North African definitely qualifies to be on the list of the most watch music videos in the year 2021. Moroccan rapper, ElGrandeToto lent his melodious voice to this remix and we must say it is dope. The video tells a story of love, jealousy, and misunderstandings.
Love Nwantiti North African music video was shot and chopped by TG Omori.
5. "Running (To You)" feat. Chike – (34,439,283 YouTube Views)
Kicking off from where he left off in 2020, Chiké drops a refix for one of "Boo of the Booless" fan-favourite. Teaming up with the vocal prowess of diva, Simi, Chike serves up a fresh and delightful serving of musical goodness on "Running (To You)" in 2021.
Running is a beautiful song by Chike x Simisola and the music video is one of the most-watched back in the year 2021, with over 34 Million views on YouTube.
Running (To You) was directed by PINK.
6. "Understand" – (29,434,080 YouTube views)
Understand broke Omah Lay's silence in the music video after a long hiatus. No doubt, Omah is one of the most loved new generation artists, mostly because he understands the needs of his generation – Gen Z.
Understand video currently has over 29 Million views on Youtube. It was premiered on the 28th of June, 2021.
7. "Ginger" feat. Burna Boy – (29,300,835 YouTube Views)
Exactly 11 months ago, Wizkid and Burna Boy dropped a huge ball on us with the video of the critically acclaimed Ginger, a song off Wizkid's 4th studio album, Made In Lagos.
No doubt, Ginger music video gave rise to mixed reactions ascertain people seemed to think that it wasn't good enough – even for the artists themselves.
It began from Wizkid's choice of outfit for the output, which struck a lot as out of place.
However, 29,254,853 youtube views are enough to shut the naysayers up. The video was directed by Meji Alabi.
8. "Soundgasm" – (29,237,303 YouTube Views)
Premiered on the 11th of June, 2021, Soundgasm fast became an additive song on the lips of music lovers worldwide. The song birthed social media challenges, making it go more viral.
Although the song is quite raw and sexual, Nigerians, who would typically criticize such an output considering Rema's age seemed to not care. Bobby Hanaford takes direction credit for the Soundgasm music video. It currently close to 30 Million views on Youtube.
9. "Bounce" – (21,919,321 YouTube Views)
Bounce became an official anthem in the 1st half of 2021. An addictive tune from one of Nigeria's most talented newbies, Ruger. It was released in May 2021 and its close to 22 Million views on Youtube. This video dished out a feel-good vibe, one that gets you in the party mood, no matter your energy level.
10. Peru x Ed Sheeran – (16,766,854 YouTube Views)
Grammy Award-winning, Ed Sheeran took Fireboy DML's 'Peru' to another level with its addictive remix. Peru was originally released in July, via YBNL Nation/EMPIRE. Ed Sheeran's piercing voice on an Arobeats song is one Nigeria's would not forget in a long time.
The video was directed by Gabriella X Kingsley and was shot in an outdoor space, giving off a party vibe. In less than a month, the song music video has over 16 Million views on Youtube.
11. "For You" feat. Davido – (16,456,098 YouTube Views)
Dr Dolor Entertainment artiste, TENI THE ENTERTAINER joins forces with Afrobeats star, Davido on the hit single; an emotion-tinged slice of Afrobeats titled 'For You.'
For You is a story of crime, love, and loyalty. The music video was premiered back in February 2021 and it currently has over 16 Million views on Youtube.
Directed by Dammy Twitch, For You is off her forthcoming debut album, WONDALAND.
12. "Somebody's Son" feat. Brandy – (15,169,212 YouTube views)
Queen Tiwatope Savage, the acclaimed queen of Afrobeats employed the services of American singer and songwriter, Brandy , came through with the video to her most anticipated song of the year, off the EP – Water And Garri.
For a music video that dropped in the later months of 2021, 15 Million views is in fact hooge we must say.
The video premiered Oct 12, 2021, and immediately had people jumping on its viral challenge.
13. "LIE" – (14,906,192 YouTube Views)
Flyboi Inc Presents Lie Video, Performed by Kizz Daniel, Directed by The Alien. "Lie" is Kizz Daniel's 2021 third official single, A follow to the records; 'Flex' and 'Currently' featuring Olamide, Falz and LK Kuddy.
Kizz Daniel is one of Africa's highly sort after Afropop/Afrobeat kings! He dropped the single, "LIE"… Produced by @philkeyz and @iamblaisebeatz before premiering the music video on the 2nd of September, 2021.
14. "23" – (14,274,750 YouTube views)
Off his 5th studio album, Twice As Tall, Burna dropped the music video to the 10th track, titled, 23.
23 is a song that talks about the realities of life in which Burna Boy reveals that music has him feeling like Jordan. The song made headlines in late 2020 versus 2021, making its music videos garner as many as views as possible on youtube.
Clarence Peters takes direction credit for the music video of 23.
15. Bloody Samaritan (Performance Video) – 13,915,292 YouTube Views
Spearheading the new era as the album's lead single 'Bloody Samaritan' is a fierce and searing track that speaks to the importance of shedding and evading negative energy. Underpinned by blazing percussive drums and a colourful horn section, it is perhaps reflective of the wider album and its themes of wisdom, maturation, and poise.
Co-written by Ayra Starr and produced by London, this searing summer anthem bristles with self-confidence as the Gen Z rising star banishes negative energy.
This song's performance video gained more views than the official music video because it came with a dance challenge.
With close to 14 Million views, Ayra Starr show she can also be a good performer.
16. "Kilometer" – (12,913,492 views)
Kilometer served as Burna Boy's putout following his Grammy Award win. The music video was premiered back in April 2021. On this record Burna speaks of his journey so far, letting us know that he has come far and is not willing to slow down anytime soon.
Kilometer was shot in a Golf court, where we watched Burna Boy show off his golfing skills, At a stadium and also on the street of Lagos, Clarence Peters gets video production credit.
17. "Monalisa" ft. Sarz – (12,473,234 YouTube Views)
Monalisa is a song by Lojay X Sarz off the album, LV N ATTN which serves as Lo Jay's debut EP, with features from Wizkid. Monalisa speaks about a lady who has succeeded in catching Lojay's fancy and the rest is history.
The talented musician further captures the minds of Nigerians by releasing an impressive music video. Monalisa was directed by UAX. The video has over 12 Million views on Youtube.
18. "Onyeka" – (11,723,918 YouTube Views)
African Giant, Burna Boy after a successful outing in 2020 starts 2021 in Grand-style, as he drops Onyeka music video… Directed by Director K.
This is a beautiful love song that references one to the beauty of the Nigerian activist and singer, Onyeka Onwenu. Burna says his woman is a triple threat just like Onyeka; Beautiful, Graceful, and Cultured.
Video Director: DK
Production Company: PriorGold Pictures
Producer: Leke Alabi Isama
Executive Producer: Jimi Adesanya
Full Credits c/o PriorGold Pictures
19. "High" – (11,535,803 YouTube Views)
High by Adekunle Gold featuring DMW label boss, Davido became the rave of the moment in its release months and obviously many months after.
The video sees Davido and Adekunle Gold probably heading back from the club, but it seems to have been a dirty night, as they were both high and could barely remember how their night went.
High music video has over 11 Million views on Youtube as we speak.
20. "Question" feat. Don Jazzy – (9,793,620 YouTube views)
A ghetto setting music video is one that Nigeria will always be able to relate to and this is exactly what Burna Boy pulled off in this music video that features ace music producer, Don Jazzy. The video was shot and chopped by music video director, TG Omori.
We all know that Burna By is known for dishing out catchy lyrics, and thanks to Don Jazzy for issuing his legendary vocals. Question video by Burna Boy premiered on Aug 24, 2021 has over 9 Million views on Youtube.
21. "The Best" feat. Mayorkun – (9,424,508 YouTube views)
Afropop star, David Adeleke drops the music video of his joint with his former label signee, Mayorkun. The Best is a song off Davido's 2020 album, A Better Time.
The Best stands as the 7th track on the album and judging from public opinion, it is said to be the actual best song on the album.
The video was richly directed by Dammy Twitch. Shot in Lagos, it represents the vibe of classic samurai and martial arts films as Davido trains his real-life protege Mayorkun on how to be the BEST.
The post 21 Most Watched Nigerian Music Videos in 2021 appeared first on tooXclusive.