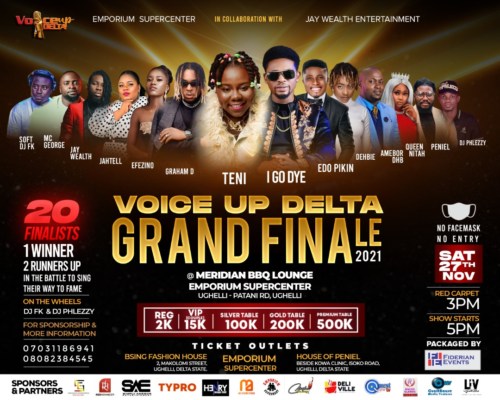 VOICE OF DELTA – MAIDEN EDITION, Unveiling Delta's Next Global Star
As part of her collective civic responsibilities to developing a society and ensuring that the next generation of Delta State talents are given the right platform to harness their creativity, VoiceUp Delta as organised by Emporium Supercenter is the first of its kind in Ughelli and environs.
In thinking of ways to reduce the alarmingly rising number of despondent youths, Emporium Supercenter has built just the right platform for youths to reach for the skies.
Emporium Supercenter in collaboration with Jay Wealth Entertainment, is proud to bring to you the maiden edition of VoiceUp Delta. VoiceUp Delta is an annual event geared at identifying, nurturing and empowering singing talents spread across Delta State. Packaged and promoted by Skyward Emporium Ltd, the show is an offshoot of their youth-based empowerment programme aimed at providing a platform for collaboration between talents and major industry players, as well as a podium for expression of creativity.
Beginning from this year's maiden edition, 20 contestants drafted from auditions held across the state will compete to win the grand prize with judges and audience deciding their favorites.
As part of the pre-event plans, auditions were first held on Friday 28th of May 2021 with the final audition phase ending on 11th June 2021. The event which officially begins with the one week camping of the contestants opens on 22nd of November,2021 and will be climaxed with the Grand Finale on Saturday 27th of November 2021. The all-white party slated for 24th of November, 2021, is an exclusive pre-event party for the contestants to bond, interact and be in good spirits in readiness for the grand finale, after a week of vigorous training exercises.
With major industry stars lined up to thrill guests, this year's edition is set to lift moods heading into the tail end of the year. Billed to appear are A-List industry stars Teni Makanaki, I Go Dye, Mc Edo Pikin, Graham D, Efezino, Jahtell, Dehbie, Amebor DHB, Queen Nitah, Peniel, Jay Wealth, Mc George, Dj Fk and DJ Phlezzy.
In setting a precedent for other events to follow, this year's edition promises to host guest profiles ranging from the predominantly affluent to a sizable number of university, college students, young professionals and Young adults. It is a testament to the work put in by the event organizers, Fiderian events to ensure quality entertainment for a mixed class of Deltans with a thorough blend of both the traditional and new generation style of life.
"This is a welcome development in the state, especially Ughelli. Not only is this an opportunity for our up-and-coming artistes to breakthrough, i believe through strategic partnership, and collaboration with top industry players, the VoiceUp delta promises to bring value not just in entertainment, but as part of our social responsibilities to the society at large" – Vwederian beatz, (Lagos Based, Delta Born Music Producer)
For ticket purchases, sponsorship and partnership requests, check flyer on @voiceup_delta or call +2348072691518
The post VoiceUp Delta Grand Finale 2021 (feat. Teni, I Go Dye…) appeared first on tooXclusive.