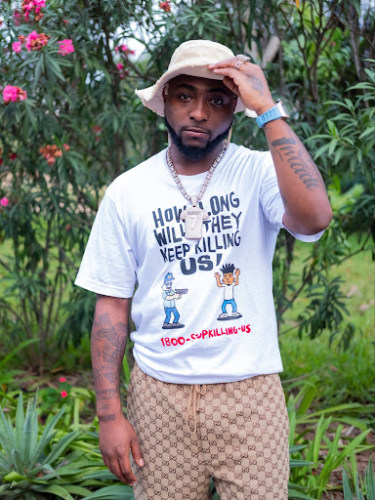 Baddest! It's not yet time to release competitive projects, but a deeply personal, tributary album...
It's been a really tough year for the patriarch of the DMW family which has gone through so much loss this year alone.
The deaths of some members of his widely revered cycle has constantly eaten at him in a year where he was supposed to lay down some more of that positive energy that we've mostly come to love him for and it's okay for David to grieve in whatever way that he needs.
For Davido and the whole 30BG gang, the year is quite unprecedented and a trail of loss seemingly follows them everywhere which has got tongues wagging even more. Earlier in the year, there'd been some agitations from fans to ensure a change in his management structure which a lot of people feel were the reasons for his lackluster album performance.
His fans do need him back on his feet, but not urgently enough to mean they won't respect his wishes to mourn his brothers. We all love David, and despite all he's been through in the past year, he'll fondly be remembered in the annals of our history pages.
The news of a forthcoming album from Davido doesn't entirely come as a surprise. David has never been one to shy away from a challenge, and the one presented by the lackluster performance of 'A Better Time' is just motivation for him to come back with a bigger bang.
While everyone grieves differently, it's important to note that grief itself is an overwhelming rush of emotions that can help you reach beyond the depths of everything you thought you knew. This time Davido will not only be writing an album for legacy, he'll be doing it for posterity. He'll be writing an album to celebrate all the fallen wisemen by his side.
It's also important to reiterate that from a logical musical perspective, a new album from Davido anytime soon is very unnecessary judging from the performance of his last album, 'A Better Time'. It is not time to release competitive projects, but a deeply personal, tributary album is certainly overdue.
At a point in life, it dawns on a man that the quality of memories that you carry about you will make up your legend in the afterlife. Davido has built legends, helped them shine and now, it is time to lay them to rest.
The performance of the album which was supposed to outdo its predecessor made it quite obvious that talent nor content wasn't the issue with DMW, rather it was something more rooted in culture.
For someone who's gone through a bit of loss through a period when he's supposed to be celebrating, Davido might just need this time to take a step back and listen to the universe concerning his music.
The music is magnanimous. It's encompassing and its life changing. It impacted on more Nigerians than most of his colleagues and at times when cracking the Nigerian audience had numerous A-list act headaches, Mr Adeleke was busy dropping jams like he owned a bakery.
His final assignment, final responsibility to the dead may not be the biggest banger, or the highest charting project of his generation, but it'll certainly go down as the most honest piece of music he's ever released.
Written by; Bisi-Taiwo A. Chukwumerije
Twitter; AfrobeatsMerije
Instagram; AfrobeatsMerije
The post An Open Letter To Davido… "You Need A Deeply Personal, Tributary Project Not Just Another Album" appeared first on tooXclusive.