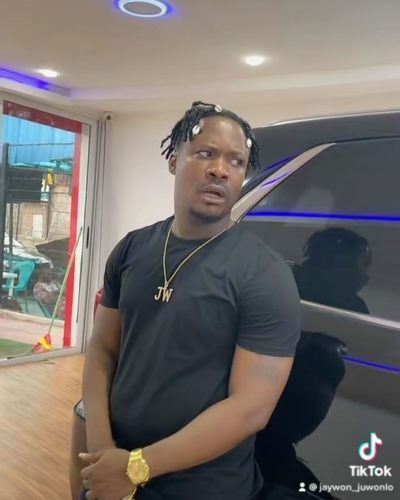 Nigerian singer, Jaywon has reacted following the viral video of a woman dancing with her boobs on full display.
On Saturday, a video of a busty lady shaking her boobs found itself on the internet. The woman, unaware she was caught on film, ferociously grounded on her partner at a wedding in Lagos.
Her designer sent her off in a tight dress and apparently forgot to add material to the bust area of the dress. Many might have ignored the video if the low cut style only exposed her cleavage. However, Netizens found the video disturbing as her boobs nearly poured out of her dress as she bent down to komole.
Netizens have aired their opinions in regards to the distasteful video. Many have made it clear that such a woman will never be invited to their wedding or will be sent back by the bouncers if she gets an IV.
Reacting to the video, Jaywon wrote that the woman is fortunate it wasn't his event. He stated that if she had showed up for his wedding dressed like that, he would personally walk her out. He added that he gats no chill and won't tolerate nonsense from people who have decided to be stupid.
View this post on Instagram
The post Jaywon Reacts To The Viral Video Of A Busty Lady, Serving It Hot At A Wedding Ceremony appeared first on tooXclusive.