Popular IT expert, Victor Asemota, has recounted his experience from when he first met with music star and label boss, David Adeleke, widely known as Davido.
According to him, Davido stepped on his foot and he reacted physically, which caused Davido to be pissed in return. He did not know who he was and did not care at the time, all he wanted was to get his bags.
It was later he found out that he was there for one of his kids.
Victor Asemota wrote, First time I met Davido, we almost fought. I am not joking. It was at Kotoka airport and we were trying to get our bags.
He stepped on my foot. I didn't know who he was and didn't care. I dragged him physically and he was pissed. Later, I found out he was there for his kid.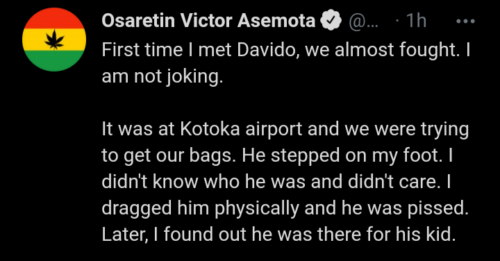 When most people talk about their first encounter with Davido, it is usually not pleasant, but when they go on and have a second and then a third encounter, they realize that he is not such a bad person.
The post "First Time I Met Davido, We Almost Fought" – Popular IT Expert, Victor Asemota Recounts appeared first on tooXclusive.